C&O Newsletter – September 2017
8th September 2017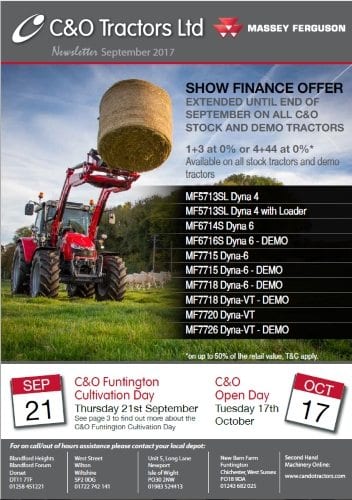 Download the C&O Newsletter – September 2017 edition or read online.
In the current issue:
Show finance offer
First C&O Massey Ferguson deliveries
Safer dumpers from C&O Construction
Funtington Cultivation Day 21st September
Search
Archives
Newsletter Archive
C&O are looking for a Construction Area Sales Manager to sell Sany excavators to customers in West Sussex. Interested in joining the team? Find out more https://bit.ly/3XK1Ze3 #jointheteam #candoconstruction
Last chance to enter the @isuzuuk #BlackAdam competition #candoisuzu #isuzudmax #inittowinit
Our epic #BLACKADAM competition ends in 3 days, enter now! https://www.isuzu.co.uk/black-adam/
#DrivenToDo #Dmax #Isuzu #IsuzuUK #IsuzuDMax #4×4 #4x4PickUp #UK #Adventure #BlackAdam #DwayneJohnson #ukcompetitions @therock @dcukcomics
Massey Ferguson 8S.285 Dyna VT out on demonstration on the Isle of Wight.
Want to see the power of the VT for yourself? ☎️ call Charlie Calloway on 07467 211211 or 01983 524413.
#masseyferguson #borntofarm #candotractors #mf8s #demothistractor