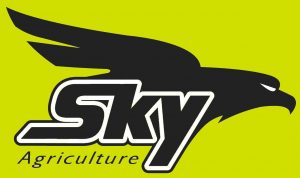 Sky-Agriculture Seed Drills provide high capacity drilling solutions for all soil conditions and cultivation systems. No matter which model you choose the design focuses on achieving maximum productivity by allowing drilling in a large range of working conditions to increase the window in which crops can be established. Sky Drills are distributed by Opico.
EasyDrill Range
The EasyDrill is one of very few direct drills that can truly be advocated as a direct, a mintill, a grassland and a cover crop drill. On well consolidated ploughing it can also be used in conventional systems. It's low disturbance disc coulter and press wheel not only ensure minimal weed seed germination, they also keep hp requirement to a minimum. A 6m EasyDrill typically takes 180hp to pull which reduces fuel consumption, tractor weight and therefore damage to the soil structure when drilling in damp conditions.
MaxiDrill Range
The MaxiDrill is designed as a high speed trailed minimum tillage drill but works equally well on ploughed and prepared seedbeds and can be used as a direct drill in certain conditions. The key feature of the MaxiDrill is the space within its construction which allows it to cope extremely well in wet, sticky and trashy conditions. This enables drilling in heavy residue seedbeds and late into the season when most other minimum tillage drills have been put away in the shed. Its road legal high speed axle allows fast transport between fields and farms and means a comfortable ride for the operator whilst enabling the press roller just to be used for consolidation whilst seeding and not for transport. 3m, 4m and 6m models are available with or without fertiliser.