C&O supply a range of quality buckets and attachments for both Agricultural and Construction uses.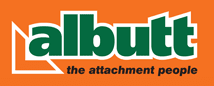 Albutt, based in Gloucestershire, UK, specialise in the manufacturing of attachments for materials handling, including sheargrabs, buckets and forks.

Swedish manufacturers Quicke produce a range of buckets & attachments and implements for bale and silage work, including lifting implements, forks and buckets.