Service Excellence Award for C&O
3rd November 2015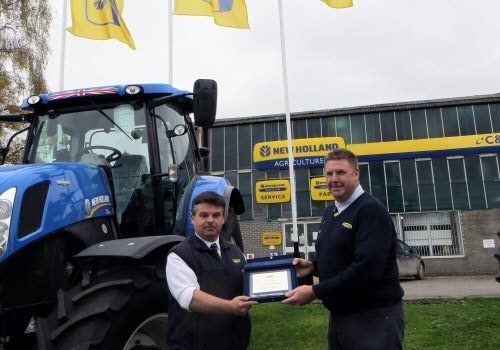 C&O Tractors have been awarded New Holland's Platinum award for Service Excellence. This prestigious award recognises C&O as the most improved New Holland dealer within the UK dealer network during 2014-2015 and was awarded based on a range of factors, including workshop productivity and efficiency, after sales service and effective management of the warranty process to ensure the customer gains the optimum benefit from the manufacturer's warranty conditions.
'This award is a tremendous accolade for all our service departments and staff involved in after sales. It is because of the combined effort across all our depots that New Holland has singled out C&O Tractors for this award. It's great to see our hard work being recognised,' said Dick Spencer, C&O Sales and Depot Manager.
Delivering a high quality warranty service is a vital part of this recognition of service excellence. Andy Blick has been responsible for delivering warranty service for C&O since 2007. 'We are here to work with our service departments, the manufacturers and customers to ensure that our customers get the most benefit out of their warranty agreements. This can be anything from ensuring customers are aware of their responsibilities to have their tractor serviced regularly to dealing with manufacturers to ensure warranty work is paid for,' said Andy.
'At C&O Tractors our vision is to be recognised as a market leader for the supply of machinery to the agricultural and construction industries, underpinned by a proven reputation for customer support and service backup and this award is a great foundation to build on,' added Dick Spencer.