Massey Ferguson 'S Effect' introduced across entire range
17th November 2017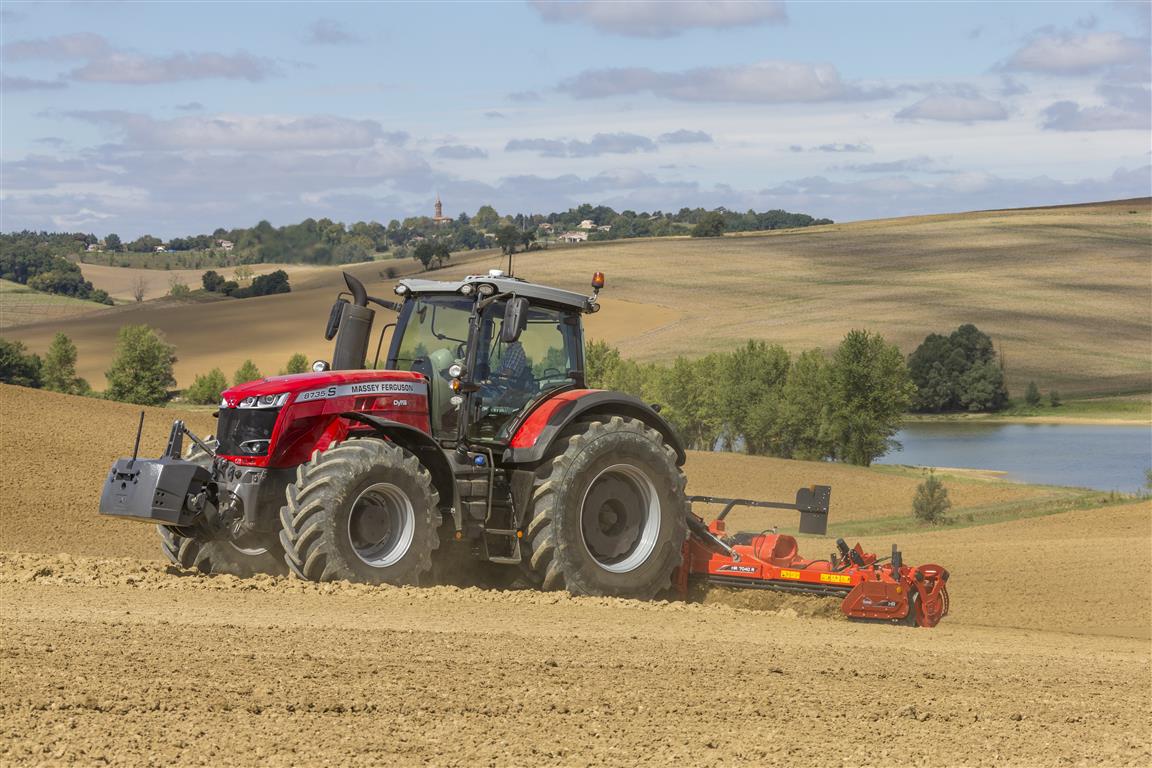 New Massey Ferguson 'S Effect' tractors
 

introduced – delivering extra efficiency, comfort, safety and style

Massey Ferguson 'S Effect' have been introduced across its entire range of high-spec Beauvais-built tractors at the Agritechnica Show in Hanover.

The new Massey Ferguson S Series line-up encompasses the MF 5700 S, MF 6700 S, MF 7700 S and MF 8700 S. "These tractors represent everything that's best in super-comfort, safety, straightforward engineering, stylish looks and solid service back-up – all in support of smart, sustainable farming," says Guillaume Dericbourg, Massey Ferguson Manager, Sales Engineering.

New 95hp MF 5709 S joins the range

At the same time Massey Ferguson is extending the S Effect down to the completely new 95hp, MF 5709 S. Equipped with the same technology as found on the larger, MF 5700 S models, the tractors provide the same high-spec features in a compact package.

The MF 5709 S comes with the choice of either the Dyna-4 or Dyna-6 transmission, with brake-to-neutral and the further option of AutoDrive. The multifunction joystick, hydraulic system choice and sloping bonnet also make it the perfect loader tractor.

Fieldstar 5 touch-screen option for all

All S Effect models, across all ranges now benefit from the option of the stand-alone Fieldstar 5 touch-screen ISOBUS terminal. This combines the ease of use and touch-screen convenience of a tablet with powerful precision farming features and operates with a choice of GNSS receivers.

Fieldstar 5 builds into a complete Precision Farming package with a powerful suite of products providing mapping, automatic section control, variable rate applications, record keeping and comprehensive machinery monitoring with telemetry.

Leading-edge design

Leading-edge S Effect design, including a new bonnet design, decals, lights and headlights, creates a progressive, distinctive style. Inside, a new colour scheme further enhances the professional finish.

With the fresh appearance comes higher payloads and an increased Gross Vehicle Weight (GVW) on certain models. On the MF 6715 S Dyna-4, for example, the GVW is now 11,000kg and for the MF 6718 S, it is now 12,500kg for the Dyna-VT model.

Flagship MF 8700 S Series tractors now benefit from a new Active Mechanical Cab Suspension, which offers Continuous Damping Control (CDC) for ultimate comfort, both in the field and on the road.

Dyna-6 and Dyna-VT models from MF 6700 S and above ranges are available with either 40 or 50km/hr maximum speed. Braking improvements see speed automatically limited to 40km/hr, if the pedals are not linked for road transport.

Pneumatic dual-line trailer brakes are now standard for trailer braking, with hydraulic braking available as an option.