Success for Students in Fifth NFU Agricultural Student of the Year Competition
6th July 2015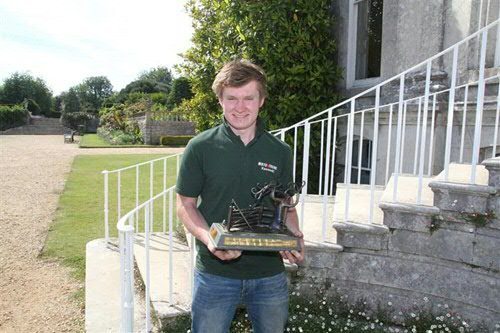 The fifth year of the celebrated NFU Agricultural Student of the Year Competition at Kingston Maurward College resulted in a unanimous win for eighteen year old Alistair Bye.
The Award was initiated in 2011 by the NFU in conjunction with C&O Tractors Ltd and New Holland, who wanted to support a credible accreditation that would aid young farmers in their future careers.
The fifteen participating students, all studying the second year Level 3 Extended National Diploma in Agriculture, competed against one another in a tense day of tasks. These included livestock, machinery and estate skills tasks, a 50-question theory test, followed by an interview with a panel of judges including the NFU's Rupert Rees and C&O Tractors' Matthew Holland.
Winner Alistair, from Luckington in Wiltshire, said "It was a complete surprise to win – I wasn"t expecting it at all! I've really enjoyed my two years at Kingston Maurward, it's the best thing I've ever done."
Alistair, who plans to continue his studies at the Royal Agricultural University in September, was presented with the bespoke trophy made for the competition in 2011 by Kingston Maurward resident blacksmith Simon Grant Jones. Alistair's main prize will be an all-expenses paid trip to an agricultural expo within the next year, to expand his knowledge of the agricultural industry internationally.
C&O Tractors Sales Manager, Matthew Holland, said; "It's always a pleasure to judge this competition, it's obvious the students are passionate about Agriculture, and thoroughly enjoy what they do.
"This competition is important to C&O and New Holland as sponsors because these young farmers of today will become the future farmers of tomorrow, responsible for the success of this industry and the people within it."
Kingston Maurward Deputy Principal, Christine Robertson, said: "We are very proud of the students, the knowledge, skills and effort demonstrated throughout the competition was outstanding, well done!"
For more information about Agriculture courses at Kingston Maurward College go to kmc.ac.uk or call 01305 215 215.