C&O supports Pearce Seeds Open Day
22nd June 2015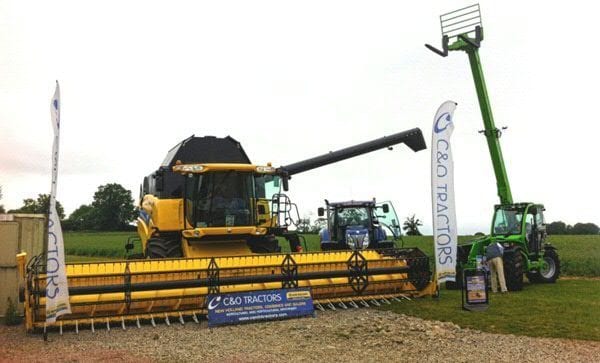 C&O Tractors were delighted to be invited to once again join Pearce Seeds for their Open Day on June 17th at Plumber Farm near Sturminster Newton. The company Open Day is now a well anticipated part of the arable calendar in the South West and over 200 visitors attended throughout the day.
Glorious summer weather shone on the machines from C&O Tractors demonstration fleet; New Holland CX8080 combine harvester, with 30ft vari-feed header, New Holland T7.270 with Kuhn Fertilizer Spinner and Merlo 42.7 CS.
The Open Day was a fantastic opportunity for visitors to take a closer look a the demonstration plots, planted specfically to give an overview of all the reseach undertaken on the farm. On show were variety plots of grass, cereals, pulses and OSR as well as forage and grass demonstration plots, greening crops and game cover crops. The demonstration field was sponsored by Syngenta UK who are also trialling nitrogen fertiliser timings and various fungicide programmes on hybrid barley.
Pearce Seeds expert team of agronomists were on hand to give more information on the trials and seeds. Pearce Seeds have been striving for Plumber Farm to be a centre of agricultural excellence in the South West and the advances made on the site are now growing in fields across the South West.
More information on Pearce Seeds can be found on their website: www.pearceseeds.co.uk